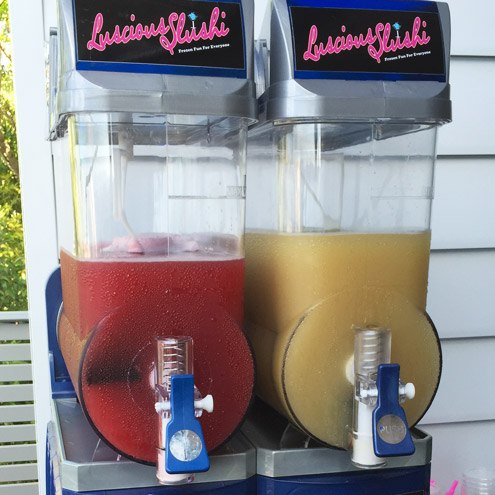 Slushy Machine Hire in Auckland for a Memorable Occasion
When you host a party for a really special event, be it a frozen cocktail party or any other celebration, you want to make it an awesome one…something that your guests will forever remember! Book a slushy machine with Luscious Slushi, and we will do everything from delivering and setting up the slushy machine to collecting it and even cleaning it!
It's so simple to use that your guests serve themselves, leaving you free to enjoy the occasion with them! We currently provide this hire service in the Auckland region only. But we may be heading to your area soon, so please keep checking in with us!
Which Best suits your Slushy Machine Hire needs?
Accessories from $5.00 (based on availability)
Single from
Includes 1 Free Flavour!
Overnight Hire $199

Day Hire (til 6pm) $149

Refundable Bond $100

Qty 40-50x 200ml serves

Delivery fee may apply *
Double from
Includes 2 Free Flavours!
Overnight Hire $299

Day Hire (until 6pm) $249

Refundable Bond $100

Qty 80-100x 200ml serves

Delivery fee may apply *
Triple from
Includes 3 Free Flavours!
Overnight Hire $399

Day Hire (til 6pm) $349

Refundable Bond $150

Qty 120-150x 200ml serves

Delivery fee may apply *
Delivery fee may apply, refundable bond required. All slushy flavour mixes are non-alcoholic.
Got a Question? Check out our FAQs page for more info.
Party Hire for any Occasion – Auckland only
To make your party or event successful, you don't have to think twice before booking a slushy machine! The whole process of hiring online is hassle-free. And with our stellar delivery service and clear instructions about how the slushy machine works, it's a no brainer!
Make your special occasion a fun-filled, fuss-free event by booking our slushy machine for your Auckland party hire. Here are some occasions for which you may hire a slushy machine:
Delicious Slushy Machine Flavours
Luscious Slushi has more than fifteen delicious flavours that cover a large range of cocktails, margaritas, daiquiris, kids flavours and premium real fruit sweetness for your slushy machine party hire. Every flavour that we offer is non-alcoholic and some even have no artificial colours or sweeteners.
Many customers choose to add alcohol and that's ok! We have some great cocktail recipes for you to peruse. You will not be disappointed!

"We appreciated that it was all so easy to use and operate."

"The most professional service I have ever experienced!"

"Your party will be the biggest hit ever!!!!"
Make a Booking
Your guests will be utterly thrilled!